Automatic Rolling Shutter For Commercial
INTRUST Automatic Rolling Shutter Door are perfect for circumstances where side room is at a premium and security is required. Our Rolling Shutter Door require exceptionally small headroom over the structural opening. They combine quality with elegance together with solidness and are planned for both outside and inside applications.
INTRUST Automatic Rolling Shutter door are created of interlocked Galvanised, Excited Protects and Non Insulated, Stainless Steel, PVC, Aluminum profiles and Bright Steel and Stainless Still Bar Rolling Grills Each of our Rolling Screens is firmly developed to promote trouble-free operation and long life. The Roller Shutter Door can moreover be planned as per client's requirements. 
InTrust High Performance Doors or High Speed Doors aids in thermal efficiency of a building through frequent fast open and close operations. The quintessential benefit of High Speed Door is the ability to control "air flow" compared to an opening of a door when it is not fully closed.
InTrust Automatic Grill type shutters allow full ventilation and our display is visible for our window shopper. Grill Type Rolling Shutters are highly effective for residential, industrial and commercial establishments and also ensures full protection. We are very proportional manufacturer of  auto rolling shutter.
InTrust Automatic Galvanised steel rolling shutter door is the most common roller shutter doors in the market, because it's strong and durable, offering high security at affordable cost. This type of door is designed and widely used for commercial, industrial and residential applications.
InTrust Automatic Roller shutter profile made from high quality aluminium alloy. Foam filled for additional strength, security and a smooth silent operation.
• High quality painted finish.
• Double line grooved and curved face.
• Wide range of colours 
FIRE RATED ROLLING SHUTTER
Fire Rated Rolling Shutters are rated physical fire barriers that protect wall openings from the spread of fire and are designed to close automatically in the event of fire or an alarmed event. Automatic closure will be thermally controlled by means of fusible link.
Motorised Fire Rated Rolling Shutter is tested & approved which comply with BS 476: Part 22: 1987 standards for stability and integrity for up to 3-4 hours.
OVERHEAD/SECTIONAL SHUTTER
Sectional Overhead Shutter door are open vertically upwards, creating clear space in front of and behind the door. Inside the building too, useful space is not wasted because the door sections can be parked underneath the ceiling, parallel to the ceiling or vertically on the wall Depending on the tracking configuration specified.
Since the doors are fitted behind the opening, the clear passage width can be used in fully.
Pass doors allow you to access your building through a closed roller shutter when there is no other way to enter.
Access through a doorway occupied by a rolling shutter is often cause for concern, especially when there is no alternative route, The use of a "Wicket Door" is an accepted option but one that is frequently overlooked because of the inherent problems created by this type of door in the past.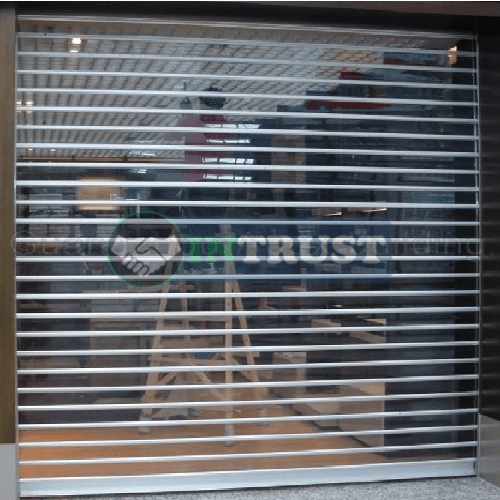 Poly-carbonate is a man-made material that's especially suitable for roller shutters. Like glass, it's transparent, but unlike glass, it's very hard to break.
Self-supporting and constructed from strong, lightweight aluminum, Rolling Security Grilles provide reliable protection against break-ins, theft and vandalism, which is Ideal for storefronts. Inviting entrances that help draw customers into the store.
Electric Operated Roller Shutter Company in Bangladesh
Nowadays, Roller shutter are the most significant component  for all sector and logistical needs. INTRUST Rolling shutter door is commonly used for garages, godowns, factory, in-front of  Basement, in-front of lift, shops front show windows, etc. as they are quite strong and offer proper safety to the property. The door shutter acts as a curtain and therefore provides adequate protection and safety against fire and thefts. This door is sufficiently strong and offer proper safety to glass and interiors when closed.
The rolling shutter door is made up of thin steel slabs called laths or slats about 0.7-0.95mm thick interlocked to each other and coiled upon specially designed pipe shaft drum mounted at the top. The roller shutter moves on two vertical steel guide channels installed at their ends. A horizontal shaft and spring (for manual) in the drum allow the roller shutter to be coiled in or out. This door is capable of being rolled up at the top easily and causes no obstruction either in the opening or in floor space.
INTRUST Automatically operated rolling shutter door options are:
Central Motor Electric Operated Rolling Shutter
Side Motor Electric Operated Roller Shutter door
Direct Drive Electric Operated Roller Shutter door
Tube Motor Electric Operated Roller Shutter
High Speed Electric Operated Roller Shutter
Why Automatic Roller Shutter?
There are a few points of interest of introducing an electric roller screen entryway. Our electric roller screen establishments highlight unsprung barrels which decrease the number of moving parts within the entryway, subsequently limiting the in general wear and tear. By having fewer working parts there's a diminished hazard of glitches, exorbitant callouts or costly repairs afterward down the line. Drawing out the life of an electronically operated door in this way implies we are able fabricate a more cost-effective arrangement for our clients.
Also, our electric shades can be provided with automated frameworks counting acceptance circles, PIR sensors and remote inaccessible controls for more consistent opening and closing. These strategies of mechanisation result in smoother operation and expanded efficiencies.
INTRUST look at Manufactured
Our rolling door are all made in our Bangladesh based generation office. This incorporates everything from rolling the person window ornament strip to powder coating the ultimate item. This gives us with ideal control over item quality and plan, hence empowering us to suit our clients' person necessities counting:
Galvanized Steel Rolling Shutter
Aluminium Electric Shutter
Polyester powder coating in various colours
Stainless Steel Shutter with 201 and 304 Grate
Transparent Shutter with PVC
Tube Automatic Shutter
Grill Electric Shutter
Sectional Shutter Door (Curved and State Opening)
High Speed Shutter Door (PVC and Aluminum)