Special Anti-theft Security Shutter for Bank


InTrust The anti-theft rolling bank door is composed of guide rail,slat,electric motor, lock set and transmission mechanism. This kind of anti-theft bank door is researched and developed on our own special for bank door, it has not only undergone a series of quality testing, but also got the quality testing certification of public security and police electronic products.It is strong and durable with strong security, long service life, burglar alarm function and so on.
Its guide rail is made of 3.0mm thick aluminum molding by extrusion. The inner and outer panels of the slat are made of 1.2 mm. Thick aluminum with 4 pieces of 1.0 mm thick reinforced steel bars in the middle and 2 pieces of steel bars of which diameter is 6 mm in the middle.The bottom bar is made of aluminum square pipe. Meantime, it has the function of rebounding when it encounters an obstacle, and can also set up the function of blocking and rebounding itself. The anti-theft rolling door has the characteristics of beautiful appearance, strong resistance and theft prevention. Its way of opening could be by manual, remote control and button.It is suitable for places with high security requirements such as banks and villas.
This special anti-theft shutter door for banks is a special product which is customized for the major business outlets of the financial system according to the requirements of safety protection for international business places like bank.As a bank door manufacturer, we provide production, sales, installation and after-sales service.
Sill rolling shutter is very simple structural design, the installation takes up a minimal amount of space. The horizontal lamellas, manufactured from high-quality galvanized zinc-plated sheet profiles, are joined together by a locking joint. The lateral guide rails ensure smooth vertical movement of the scrolling shutter. Access control can be with remote control, reader sensors, ground loops, push button, key cards, digital code pads, finger readers and other devices all to suit your individual needs in the warehouse or factory.
The Technical Parameter & Product Features of Automatic Anti-theft Security Shutter for Bank
Chain break protection device;once the transmission chain breaks, it will immediately prevent the reel from reversing, to stop the door sliding , and avoid personal or property damage.

It can meet the automatic rebound function ,to stop or reverse automatically when it encounters an obstacle.

The door system has the ability of resisting damage as stipulated by the international GB17565-2007 security door. When the door is damaged by professional tools, such as drilling, cutting, sawing, prying and so on, the door is still firm .

The bottom beam is equipped with automatic interlocking device. It is designed with movable type, and the automatic locking device does not need manual interference, thus avoiding the situation of forgetting the locking and damaging the door when the lock is opened .

It appearance using electrostatic powder spraying process, anti-Rain Water, anti-corrosion, service life of more than 20 years.

The special motor and control system use national standard 36V DC motor, slow start and slow stop, up and down speed consistent, not easy to heat , can run infinitely; Wireless tight wall switch, intelligent control, The special motor of bank door system has the characteristics of precise positioning, low noise, small vibration and low power consumption, and the design service life is obviously 10 times longer than that of the similar products.

Adopt double ground hook lock ,its use automatic lock and double ground hook lock these two kinds of lock two-stage lock.manpower can not open , strengthen the anti-theft property.
| | |
| --- | --- |
| Product | Galvanized Steel Roller Shutter Doors |
| Material | Steel |
| Pipe Diameter & Thickness | 3MM-5MM ( Customized), 75-150MM (Customized) As per Clients Requirements |
| Motor power | 0.25KW-0.75KW (As per Shutter Size) |
| Power supply | 1 phase 220v or 3 phase 420V, 50 HZ |
| Motor | Side motor 300kg/600kg/800kg/1000kg |
| Controller system's | Encoder / limit switch |
| Spring Thickness  | 1.4MM (As per Customer Requirement) |
| Opening | Roll up |
| Door curtain | Pvc curtain thickness 0.8mmhigh density polyester fabric |
| Opening Way | Electric/Manual/Remote control/Button/WiFi |
| Rolling speed | 5-15m/min |
| Wall to wall size | The width of a single shutter door can be up to 45 meters and its height can be up to 9 meters. |
Design of Security rolling Shutter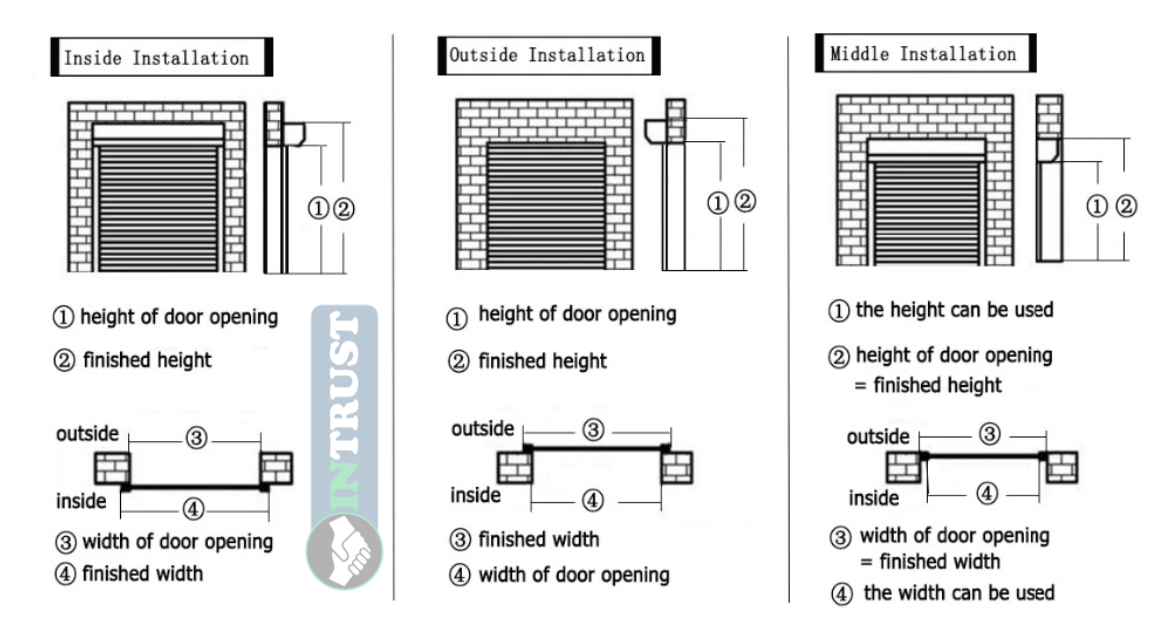 Lintel available: it can be set with advertising slogans or billboards. If it's a bank, it can be put with the bank's logo and name.
Anti-prying function: installed with anti-pushing device, locks are set on both sides of the door bottom. When the switch is locked, there is a prompt sound and the lock has anti-prying function which can prevent the door from prying by force, and it is safe against theft.
Silent Operation: The anti-theft rolling shutter door of the bank is independently developed by Zhongtai.It ensures that the door can run vertically and smoothly at any position to eliminate the friction of the door in operation, making the door run more smoothly and noiseless,which can achieves zero friction and noiseless operation.
High quality motor: its motor of this door is a direct current motor with good heat dissipation performance. Compared with alternating current motor, the door with DC motor can run more frequently at the same time without damage.
Strong and durable: Not only the slat itself is strong and durable,but also the slat is inserted with reinforced steel bar of 6mm diameter to make burglars cut slowly and be found in time. It has long service life, and a burglar alarm device could be installed. Besides, the locks are certified by the Ministry of public security and the police electronic products quality testing center.
Arious options: The door could be opened and closed with a safety alarm (optional), anti-collision device (optional) and a limiter, using automatic rolling to support its opening. Anti-collision device has the function of automatic rebound when encountering obstacles, preventing the collision of the vehicle when the door falls, and making the person, vehicle or pet pass through the door body smoothly and safely.
Intelligent control: It has many ways of control such as button, key, remote control and so on.It is equipped with emergency battery would be provided with DC power supply to ensure normal opening and closing of the door after power failure.Even if the standby battery is powered off,it is equipped with chain to ensure the operation of the door by manually.
Multiple safeguards: it can automatic close with double ground hook locking to ensure multiple protection.
Operation speed: the average speed of the anti-theft rolling shutter door is 5.0-5.5m/s when it is switched on and off, and slows down when it is about to close or rise to the top.
Beautiful appearance and design: it is with characteristics of beautiful and generous, durable and strong anti-theft.
Color, InTrust Aluminum shutter

We can customize the best product for our customers according to their demands.
If you have any questions, please feel free to contact us . We will get in touch with you within short time. We are waiting for your message and hope to cooperate with you!