Automatic High Speed PVC shutter
InTrust Green automatic high speed PVC shutter door's are designed for fast open and close, allowing people and/or equipment to move quickly through the opening, The Green Automatic High speed  shutter door is ideal for large size opening and designed for high performance everyday use both internally and externally with minimal maintenance. The PVC rolling door operated as speed > 1m/s, this model doors offers beneficial energy saving in both commercial and industrial application. In additional PVC roller shutter doors reduces noise and dust from nearby working areas. PVC Rolling door was ideally choice for many commercial and industrial application. PVC shutter controller , PVC shutter door price in bd, PVC shutter door price bd
The Fast Roll up door is a barrier-free isolation door for fast lifting. Its main function is to provide quick isolation. The bottom end is furnished with elastic PVC base cloth seal, which can be closely combined with several bristly ground.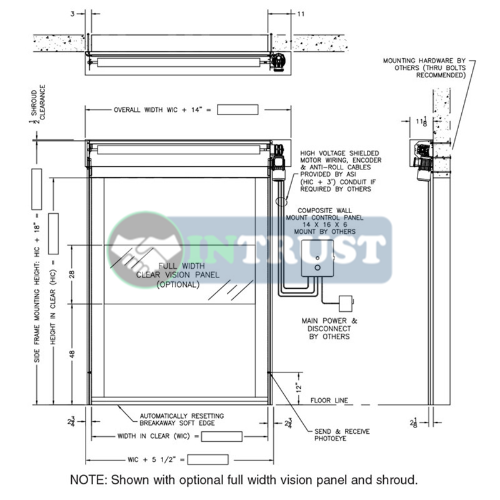 The Technical Parameter & Product Features of Green Automatic High speed PVC shutter Door
Strong and sturdy: The lighter fabric curtain in the quick door has a transparent window with horizontal metal ribs. The sealing brush has a wind blocking function. At the same time, the main material of the fast door is some corrosion-resistant aluminum alloy, so its toughness is very good, it can resist oxidation, it will not easily fade, and it is very convenient to maintain.
Safe and reliable: The quick door opens the entire passing height in an instant, allowing the driver to fully see the transport path, thus avoiding collisions.
Opening method: The quick door has a variety of manual and automatic control methods, such as electric buttons, manual drawstrings, geomagnetic induction, infrared microwave sensing, etc., to meet the user's requirements for door opening and closing methods.
Intelligent: Fast doors are very intelligent, only need to set the lower limit and upper limit, the fast door can be changed according to the parameters we designed after starting.
| | |
| --- | --- |
| Opening speed | 0.5~1.5m/s |
| Closing speed | 0.5~1.0m/S |
| SW max | 9500mm |
| SH min/max | 600 – 9500mm |
| Power supply | 1 phase 220v/110v3 phase 220v/380v/420v/480v |
| Drive motor | Gear motor 0.75~3.0kw / ip55 |
| Controller system's | Encoder / limit switch |
| Framework | Standard: stainless steel 201optional: stainless steel 304, steel pouting |
| Track | Standard: stainless 201optional: aluminum, stainless steel 3041 |
| Door curtain | Pvc curtain thickness 0.8mmhigh density polyester fabric |
| Safety feature | Photocell safety sensor safety edge bottom |
| Working temperature | -10 ~ +50℃ |
| Command system (optional) | Radar, loop sensor, rope switch, remote control, fingerprint, key card, Face detector, remote control, wifi control |