Grilles Rolling shutter Security Door For Bank (MS/SS/Aluminum)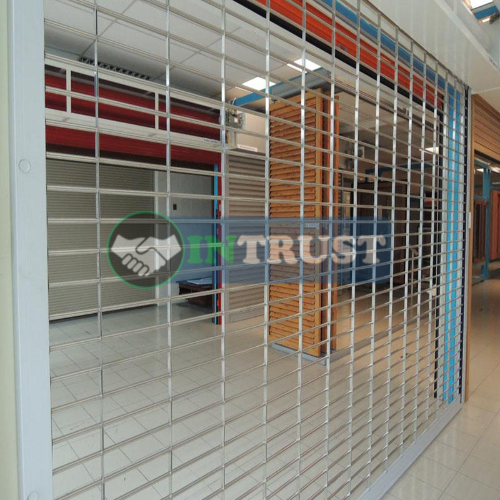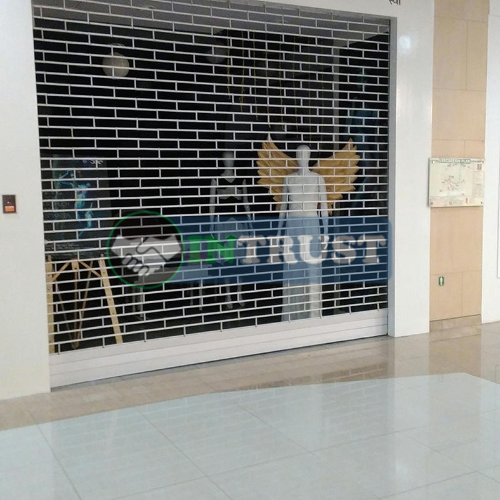 InTrust Remote Control Grilles Rolling Shutter Door's are made of stainless steel, Metal or aluminium, of which profile can be made into the form of tube, slat, grill and plate. Stainless steel shutter door of InTrust is a durable and practical product in the series of rolling gates , which consists of stainless steel Pipe Shutter , rod Shutter, stainless steel hanging slats and track. Automatic grill shutter door has the characteristics of transparency, beauty, theft-proof, and 24 hours advertising. Grill rolling shutter price in bd.
Grill shutter doors is a kind of rolling shutter which is more common in the market and has the characteristics of being transparent and beautiful. Rod Shutter/Remote Control Grilles Rolling Shutter Door are widely used in banks, parking way,  high-end shops and other places. One of them is made of aluminum alloy curtain, bottom beam and guide rail. It is economical and practical. Grill rolling shutter price in bd.
It is  also used in commercial paving, storage and other places. According to the requirements of use, the door body is made of mechanical punching by different specifications of aluminum alloy plates, which are made into different shapes according to customer requirements, durable and beautiful.
The Technical Parameter & Product Features of Grilles Rolling shutter Security Door For Bank (MS/SS/Aluminum)
The  Remote Control Grilles rolling Shutter Doors is controlled by intelligent control circuit system, which can reduce the loss of personnel and financial resources in the fire. Its early warning and fire protection system is very good for evacuation.
The rails of the grille shutter door are fixed on the door frame by means of expansion screws or welded to fix the guide rails, while the inner groove of the guide rails can be embedded with PVC seals or tops to achieve the effect of mute when the doors and windows are up and down.
After surface treatment, it is a good base for making anti-corrosion coated plates, the overall shape is beautiful and generous, and the door panels are strong and durable.
Extrusion molding with high-quality high-strength steel plate and unique design of the slat structure make the strength of the door body several times higher than that of ordinary doors and windows, overcoming the opening and closing process of ordinary rolling shutters and wind blowing.
Novel shape, beautiful and generous appearance, rugged and durable performance, high anti-theft performance. It is suitable for home, villa, shop, workshop and so on.
Opening method: The quick door has a variety of manual and automatic control methods, such as electric buttons, manual drawstrings, geomagnetic induction, WiFi controlling, and etc., to meet the user's requirements for door opening and closing methods.
A safety anti-collision device can be set at the bottom of the door (optional).When closing the door, it stops quickly to ensure the safety and exit of people and things if it approaches an obstacle, and the remote control and light control are optional. The door can be installed indoors or outdoors.
Intelligent: Fast doors are very intelligent, only need to set the lower limit and upper limit, the fast door can be changed according to the parameters we designed after starting.
| | |
| --- | --- |
| Product | Remote Control Grilles rolling Shutter Doors / Rod Shutter / Pipe Shutter |
| Material | Steel/Stainless Still/Aluminum |
| Pipe Diameter & Thickness | 3MM-5MM ( Customized), 75-150MM (Customized) As per Clients Requirements |
| Motor power | 0.25KW-0.75KW (As per Shutter Size) |
| Power supply | 1 phase 220v or 3 phase 420V, 50 HZ |
| Motor | Side motor 300kg/600kg/800kg/1000kg |
| Controller system's | Encoder / limit switch |
| Spring Thickness  | 1.4MM (As per Customer Requirement) |
| Opening | Roll up |
| Thickness Of Profiles  | 0.8MM – 2MM (For Aluminum) |
| Opening Way | Electric/Manual/Remote control/Button/WiFi |
| Rolling speed | 5-15m/min |
| Wall to wall size | The width of a single shutter door can be up to 45 meters and its height can be up to 15 meters. |
Design of Grill rolling Shutter